Hard to believe that it's 2014 already! I wasn't going to do any New Year's Resolutions this year, but over the last few days I saw some folks posting about some year-long projects that they were getting ready to start… so I decided to jump in and set three very reachable goals for myself. Here's a visual aid: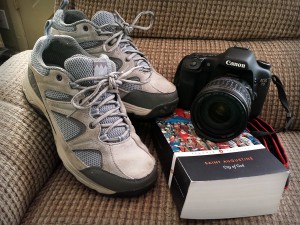 The first was a no-brainer… exercise! I won't bother to make the diet commitment because inevitably I will fail at that. But I can commit to exercise more. I have a recumbant bike now, and my Fitbit to track steps taken during the day.
The next, and most intimidating (and potentially the most rewarding as well), is the photo-a-day project. I needed a good creative challenge, and honestly I haven't been doing as much photography as I should… so this was a good fit for me. I'll be posting some of them here, and more over on my Facebook page, but you can also follow me at http://365project.org/onepursuit where I'll (hopefully!) be uploading a few pictures each day.
Finally, I saw some friends on Facebook talking about reading Augustine's City of God in very small chunks over the course of the year. They set up a facebook group to discuss what we're reading… so it's kinda like a college class without the high pressure deadlines or the tuition 🙂  I'm looking forward to that too.
I didn't realize it at the time, but after I posted this picture I realized that I've chosen goals that will challenge and enrich body, soul, and mind 🙂 Not bad for something I didn't plan!